Feed Your Muse
E. Chris Garrison's Tipsy Fairy Tales Blog Tour featuring the novels Blue Spirit and Restless Spirit!
September 21-28, 2016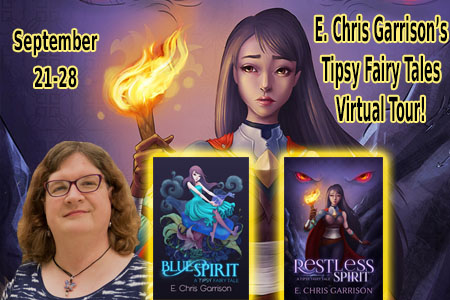 I am so stoked to be sharing Chrissy's food to fuel the muse. As a writer myself, there are things I must have to help me get inspired. Chrissy has provided an excellent top-ten list for me and she inspired me to find a copy cat recipe of an Indy original which you can find after the top-ten. I am still reading the books, but so far they are an absolute ball. I have had Chrissy on the blog before for one of my famous Fourth Wall Friday posts. She is an amazing author, make sure you check out the links and get these for your kindle or order the paperback. Seventh Star Press has the nicest print books. I am thrilled to have her on the blog again, and this was really one of the best top-tens I have had! Enjoy!
I was delighted to have this topic suggested by the Cabin Goddess, as I am quite fond of many kinds of food. Relating the food to my writing is a taller order, but I'll take a shot at it here.
Coffee
I put this first, because it's basically a stereotype. Writers drink lots of coffee to stay awake and to hype them up. For me, it's a careful balance, however. I do love to sip coffee (mochas especially, but cream and sugar's fine too) but too much caffeine and I end up hyper, anxious, and unfocused.
Whiskey
Sure, go ahead and laugh, but I once sat on a panel of authors at Fandom Fest on "Authors and Alcohol" and most brought their own flask of booze. I was one of them. It was a riot, and I felt better about how much I drank at the time compared to the others on the panel. Let's just say that is a stereotype for a reason. Anyway, the saying goes, "write drunk; edit sober" and there's something to knocking down inhibitions to give yourself permission to get the idea out on paper, whether it sucks at first or not. It's what guides my writing; get the idea down, even if it's flawed, then fix it later. Because it's impossible to edit something that hasn't been completed. Or started.
Pizza
When writing, time has to be found somewhere, and pizza is perfect for this, since you can just have it delivered, to eat alone, or to share among your other writer friends as part of a write-in party. It's even a food you can eat one-handed, so you can keep on typing. There is a particular pizza place near me that's open very late that I've camped out to get wordcount out. They're glad to have me and the other writers, most of their business is carry-out anyway, and we bring in more business with the get-togethers.
Beer Cheese Crock
Another haunt of mine is the Broad Ripple Brew Pub, here in Indianapolis where I live. Only a couple of miles from home, it's a favorite place to take my wife and friends, since their menu covers any sort of diet. Plus, as Indiana's first brewpub, they have excellent beer brewed on premises. Sometimes I go there for a late lunch, and bring my old Alphasmart Neo for a long writing session. A favorite finger food there is the beer cheese crock, a cheesy fondue and a plate full of hearty breads to dunk in it. Like pizza, this is a tasty single-hand meal to fuel me without distracting from the writing.
Salad
"No great story ever started with salad" goes the Facebook meme. And true, there's little inspiring to me about salad, but sometimes it's just what my body craves, to get some vegetables with interesting texture, covered in blue cheese dressing, with some cheese and perhaps bacon bits in the mix. Okay, so I'm still not believing this myself, but my wife tells me that salad, especially spinach leaves, are supposed to be brain food. And yeah, my diet isn't always the best, so getting veggies in there can really hit the spot once in awhile. And it goes well with the beer cheese crock I just mentioned, for a bit of variety.
Crunchy Granola Bars
This is a little personal, but I'm somewhat hypoglycemic. If I go too long without eating something, I get fuzzy headed and crabby. Hangry, as they say. So, I often carry the crunchy kind of granola bars (peanut butter is my favorite) in my purse, just in case I get caught in a situation where I'm not going to be able to have a proper meal while I'm writing. Like the Snickers commercials, one of these will transform me from an unproductive grouch back to my more usual self.
Cheesy Popcorn
What? I just like cheesy popcorn. Do I really need a reason? Sure, it's got the downside of being messier than a lot of snacks, but it's nice and crunchy and cheesy and salty… dang, we don't have any in the house right now, I'll have to fix that.
Crock Pot Chicken
I discovered a few years ago that I could cook a whole chicken in my crock pot. Cut up some red potatoes and an onion to surround and stuff it with (respectively) and put it on to roast for about 6 hours on low, and you have a tasty meal for the family with very little effort or time. And when the muse is calling, time is precious, so buying time with a lifesaver meal like this is priceless.
Chocolate Ice Cream
Okay, it doesn't have to be chocolate. It can be cookie dough, or Chunky Monkey, or Moose Tracks… or even good vanilla with chocolate syrup on it. Ice cream can be the treat I promise myself if I get another 1000 words out in an evening. Or it can be what I drown my sorrows in if my characters just won't cooperate with me.
Irish Coffee
I saved the ultimate Muse Fuel for last. Irish coffee is this: whiskey, coffee, and cream. Sweetened if desired. Why is it writer fuel? It combines two of the earlier items on the list to both energize me and loosen me up. A perfect balance of uninhibited and headlong writing that burns up the wordcount. Sure, much of it has got to be trimmed and polished later, but it's worth repeating that getting the words out to work with gives you the raw material of a story. Also, it's what my muse craves, and who am I to deny my own muse?
 Beer Cheese Crock
(Adapted by me from a copy cat recipe)

Ingredients
 1 1/4 lbs super cured American cheese
3 oz. blue cheese
1 cup of an Amber or Brown Ale
1/3 cup of Porter
a pinch of dry mustard
Instructions
Get thyself to the store and grab all your ingredients. The beer at the pub is obviously theres, but I suggest you get your own fav craft amber or brown and porter beers. Two six packs will do just fine, yes, you will have some to taste while you cook!
Crack open one when you get home to sample as you cook, you deserve it!
Wrap the bread in tinfoil and toss in a low temp oven to warm up while you get that cheese all melty and drunk.
Pour beer into a pan on a med low flame. We want to slowly melt the cheese. Oh and make sure to pour slowly so there is no foam. You learned how to do that in college, remember?
Stirring with a spatula or wooden spoon, add cheese cubs and the blue cheese. Stir for five minutes or as long as it takes you to chug half the beer back, before adding the dry mustard (and make sure it is a pinch, not a dash when the possibility of accidentally dumping half that dry mustard into the pot can happen. Yep, did it.).
Drink the rest of the beer and pour yourself another before removing the bread from the oven.
Tear bread in chunks and fondue style dip it, but with your fingers. Don't try using fondue forks, you will end up piercing your tongue after beer three.
Blue Spirit 
Gamer girl Skye MacLeod can see fairies, but only when she's tipsy. More Grimm than enchanting, some of these fairies are out to ruin her life, wreaking havoc with her job, her home, and her relationships.

With the help of her tiny fairy friend Minnie, Skye has to protect her vampire wannabe gamer friends from all-too-real supernatural threats only she can see. Can she keep it together and hold fast against a wicked fairy Queen's plot?

Blue Spirit is the first book of A Tipsy Fairy Tale series!
Restless Spirit
When Skye McLeod is asked by her pal Phil Jenson if she wants to cosplay at his game company's booth during Big Con Weekend—and get paid for it—she jumps at the chance. Besides, Skye's hit a rocky patch with her girlfriend Annabelle, who wants her to stop drinking and act more responsibly.

Then Skye gets a call from paranormal detective Rebecca Burton for another job; something big is going on at the convention, and she needs Skye to be her eyes and ears there. So now Skye's getting paid to have fun—twice!

Then The Night Duke, a creep from Skye's live role playing days, shows up and uses some weird mojo, seemingly turning pretend zombies into real ones. After barely escaping an attack, Skye learns the fairies and trolls within the magical realm are getting restless, and her old friend, the Transit King, is in the middle of it.

Skye decides to once again enlist the aid of her fairy companion "Minnie." For Skye to enter the magic realm, she needs to get tipsy. Then she'll just have to control the powers within her and contain the outside forces that threaten to spin into chaos. How can she possibly screw this up?

Book Two of the Tipsy Fairy Tales Trilogy
E. Chris Garrison writes fantasy and science fiction novels and short stories. She used to publish as Eric Garrison, but has since upgraded.

Her latest series is Trans-Continental, a steampunk adventure with a transgender woman as its protagonist. Chris's supernatural fantasy stories include the Road Ghosts trilogy and the Tipsy Fairy Tales published by Seventh Star Press. These novels are humorous supernatural fantasies, dealing with ghosts, demonic possession, and sinister fairy folk.

Her novel, Reality Check, is a science fiction adventure released by Hydra Publications. Reality Check reached #1 in Science Fiction on Amazon.com during a promotion in July 2013.

Chris lives in Indianapolis, Indiana, with her wife, step-daughter and cats. She also enjoys gaming, home brewing beer, and finding innovative uses for duct tape.
Facebook | Twitter  | Website | Amazon | Goodreads
———————————————————————————
Tour Schedule and Activities
9/21 Novel-ties Review
9/21 RJ Sullivan Fiction Guest Post
9/21 Sapphyria's Book Reviews Top Ten's List
9/22 Green Gates Entertainment Review
9/23 3 Partners in Shopping, Nana, Mommy, & Sissy, Too! Top Ten's List
9/24 Sheila's Reviews Guest Post
9/25 Deal Sharing Aunt Author Interview
9/26 Jorie Loves A Story Review
9/26 Magic of books Review
9/26 Cabin Goddess Top Ten's List
9/27 Jordan Hirsch Review
9/27 The Seventh Star Author Interview
9/28 Jorie Loves A Story Guest Post